BANGKOK
(Thai: กรุงเทพฯ
Krung Thep
) is the capital of Thailand and, with a population of over eleven million inhabitants, by far its largest city. Its high-rise buildings, heavy traffic congestion, intense heat and naughty nightlife do not immediately give you a warm welcome — but don't let your first impression mislead you. It is one of Asia's most cosmopolitan cities with magnificent temples and palaces, authentic canals, busy markets and a vibrant nightlife that has something for everyone.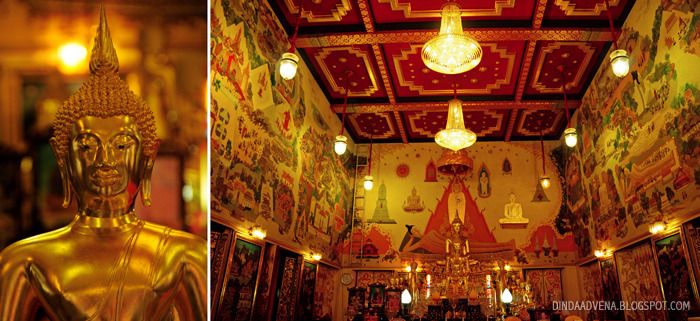 Khaosan Road
is a small road located about a block from the Chao Phraya River at the northern side of Rattanakosin. Backpackers and budget travellers are drawn here by some of the cheapest accommodation and travel deals in Thailand. This article also deals with the wider
Banglamphu
area that hosts a few interesting temples, as well as lots more places to stay and eat.
The word
khao san
itself means milled rice and is an attribution to the historical role of this street in the rice trade.
Street carts on the road sell decent
pad thai
(fried noodles), quail eggs, roti (like a pancake), falafel, hummus, various bugs and some sell just cocktails. However, it's worth noting that much of it is specifically geared for backpackers — even the local
pad thai
, especially the 10 baht variety, saves money on the ingredients and uses soy sauce instead of the traditional tamarind sauce.
Finally, what would Bangkok be without the much-loathed, much-loved
tuk-tuks
? You'll know them when you hear them, and you'll hate them when you smell them — these three-wheeled contraptions blaze around Bangkok leaving a black cloud of smog in their wake. For anything more than a 5-10 min jaunt or just the experience, they really are not worth the price — and, if you let them get away with it, the price will usually be 4 or 5 times what it should be anyway (which, for Thais, is around 30% less than the equivalent metered taxi fare). If you still want to try the tuk-tuk, always hail a moving tuk-tuk from the main road. At tourist spots, these tuk-tuk drivers lie in waiting to disrupt your travels plans. Always agree on a price before entering the tuk-tuk. Also be crystal clear about your intended destination.
Bangkok Chinatown
Yaowarat and Phahurat
(Thai: เยาวราชและพาหุรัด) is Bangkok's multicultural district, located west of Silom and southeast of Rattanakosin. Yaowarat Road is the home of Bangkok's sizable Chinese community, while those of Indian ethnicity have congregated around Phahurat Road. By day, Yaowarat doesn't look that much different from any other part of Bangkok, though the neighbourhood feels like a big street market and there are some hidden gems waiting to be explored. But at night, the neon signs blazing with Chinese characters are turned on and crowds from the restaurants spill out onto the streets, turning the area into a miniature Hong Kong (minus the skyscrapers).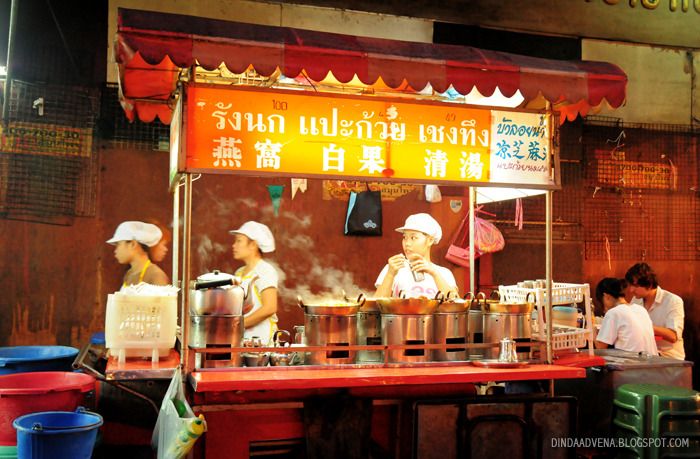 Krabi Province
Take few more steps outside to Southern Thailand, in a small archipelago.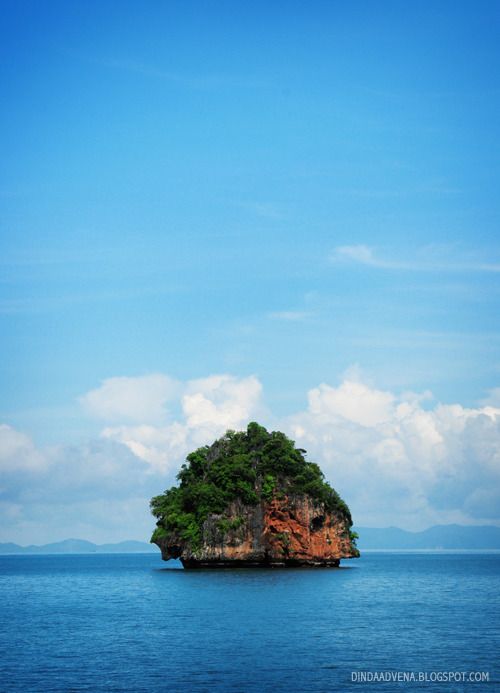 Rai Leh
(อ่าวไร่เล), also commonly known as
Railay
, is perhaps the best winter sport rock climbing area in the world, with over seven hundred bolted routes up limestone faces with breathtaking views over the ocean. If you are an avid rock climber, chances are you already know about this place and the spectacular cliffs are the reason you are here.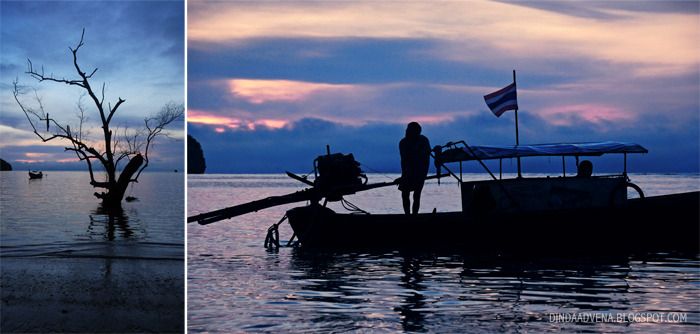 Ko Phi Phi
is considered to be one of the most naturally beautiful islands in the world (in fact, there are six islands in Phi Phi). They lie 50km south-east of Phuket and are part of Had Nopparattara - Koh Phi Phi National Park which is home to an abundance of corals and amazing marine life. There are limestone mountains with cliffs, caves and long white sandy beaches. The national park covers a total area of 242,437 Rai.
Phi Phi Don
and
Phi Phi Le
are the largest and most well-known islands. Koh Phi Phi was devastated by the Indian Ocean tsunami of December 2004, when nearly all of the island's infrastructure was wiped out. Redevelopment has, however, been swift, and services are back with building regulations in place to limit the height of new buildings to preserve the island's stunning views.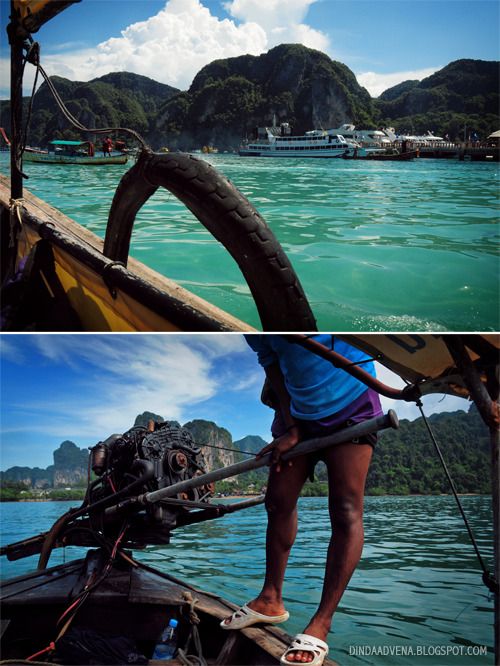 Ko Phi Phi Don
This island is the largest of the 6 Phi Phi islands and consists of two main sections. It is on Ton Sai where the original inhabitants settled and is now the home of the main accommodation area. Phi Phi Don is quite stunning and has earned the title of one of the most fantastic islands in the world. Nowadays though, with development, the beaches have paid the price and so they're not quite as spectacular as they were in the days of yesteryear. The landscape however, can never be ruined.
Viewpoint
- walk up to the Viewpoint, 186 metres above sea level (a very steep walk of between 10-25 minutes, depending on fitness), to get a breathtaking view of the entire island - particularly at dawn or sunset (bring a torch). You will be surprised at how narrow the sand strip is between the two main parts of the island.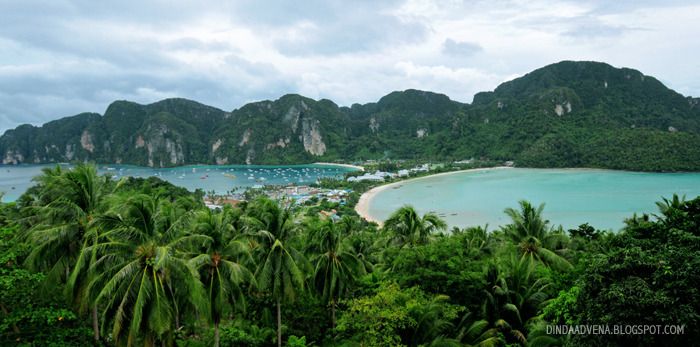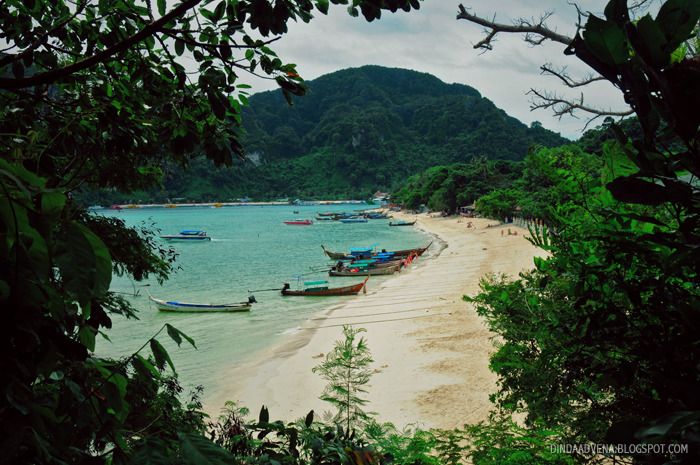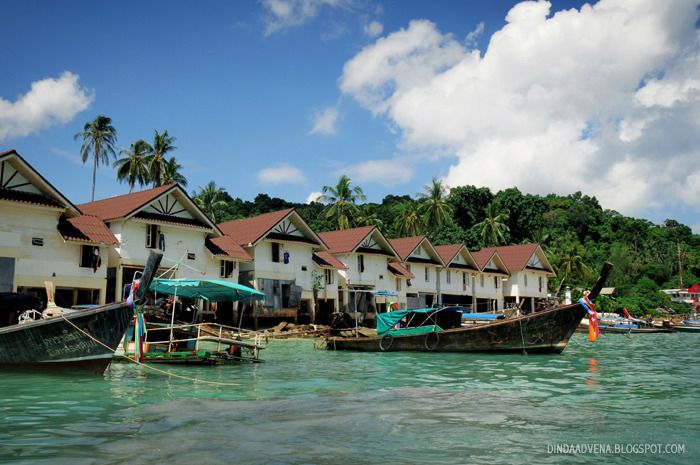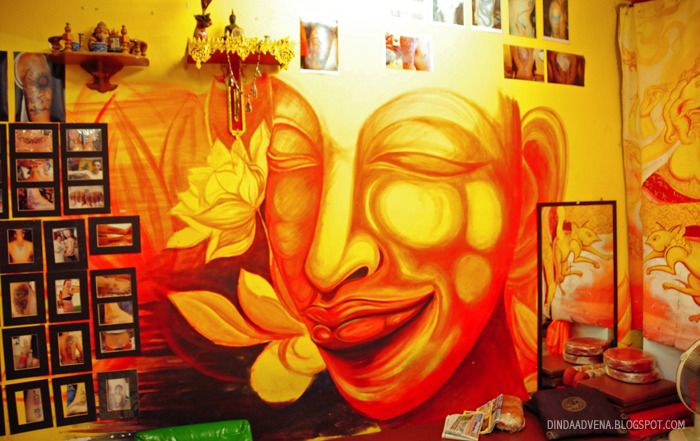 Monkey Beach
- accessible on foot or by renting a canoe, or be lazy and charter a longtail boat. Be careful as the monkeys can sometimes be aggressive. (Note: you should not feed wildlife)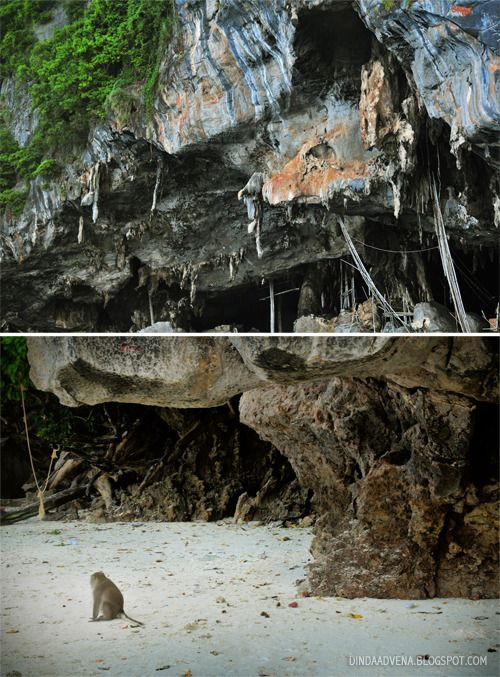 Ko Phi Phi Leh,
a smaller island to the south, popularised when parts of the movie "The Beach" were filmed there.
Maya Bay
has arguably Phi Phi's most fantastic beach and was the location for the movie The Beach (Leonardo DiCaprio) in 1998. The bay also has hard coral and colorful reef fishes which makes it a favorite spot for tour snorkelers and first time divers. There is also a jump spot (~20 metres) in one of the creeks behind the beach, and some climbing is possible on the cliff just next to it. You can take a longtail boat to Maya Beach for about 1500 baht for the whole boat for half a day. It is highly recommended to arrive at Maya Bay before 8AM, when the place can still be enjoyed in solitude.
Text explanation grabbed from WikiTravel